10/26/2023 10:00 AM Central
Swati Prakash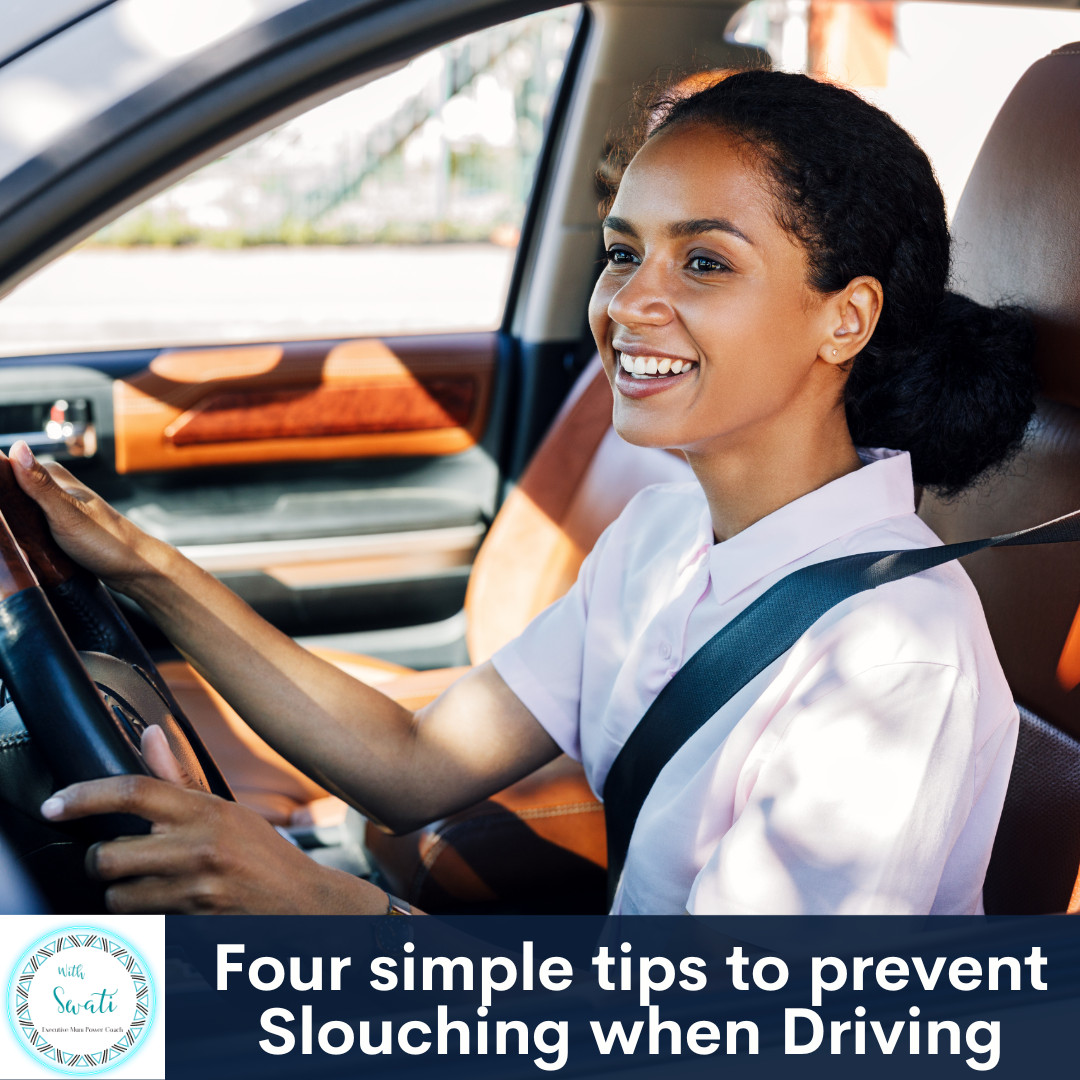 As a working mum we wear different hats through the day, whether it's at work or with our kids. One of these is driving your kids to and from classes or doing the school run or driving to work yourself. As a busy mum you maybe spending a good amount of time sitting in your car on an everyday basis. Most mums in the drivers seat are
slouched over the steering wheel
from their mid back or the lower back. The same is applicable for mum who sit for long hours at work plus travel for work, sit with their kids, especially those of us with younger kids. In this blog, lets discuss four simple tips that you can implement today to stop slouching when driving.
Firstly, sit back into your seat so that your bottom is touching the seat. However be mindful to keep a 1 inch gap between the edge of the seat and the back of your knee. This ensures there is no additional pressure on the important structures that are present at the back of the knee. If your seat is too long and this is not possible use a pillow or lumbar support behind your back to shorted the seat length. When your back muscles get tired you tend to move back towards the seat to lean on it. If you don't sit back into your car seat there is enough room for you slouch into the seat at this stage, leading to a poor slumped posture.
Secondly put a tennis or massage ball or a rolled up towel between your shoulder blades (anywhere from the top to mid of the shoulder blades), such that it sits between your thoracic spine and the car seat. Whenever you slouch the ball will roll off your mid back, thus reminding you to keep your spine erect. Once your mid back is in a good posture it will automatically keep the lower back from slouching as well, thus preventing a rounded mid back and lower back!
Thirdly make sure that your pelvis is tilted forwards. This can be easily achieved by keeping your hip joint slightly above the level of your knee joint. This is difficult to achieve when you have bucket type of deep seats in your car. Use a seat cushion to sit on and a back cushion, to manage this. Keeping the pelvis tilted forwards places your lumbar spine in a good posture, thereby avoiding slumping or slouching at the lower back.
Fourthly, if your car seat does not have a
lumbar support
, roll up a towel and keep it in the curve of your lower back. This will support the muscle that are located in the deepest parts of the lumbar curve, thus eliminating the need to slouch in the car seat.
Here is a video on "Is it too late to fix your posture?"
HERE
is a free guide to how to improve your posture when you are not sure where to start.
If you like this blog and want to be notified about new blogs as soon as they are published, subscribe to my mailing list below.

Note: This blog contains affiliate links which will bless me and I will be able to help more people with spine and joint pain.