Jun 14, 2021 06:19 PM Central
Swati Prakash
Cervical spondylosis, also known as Cervical Osteoarthritis or cervical spondylarthrosis is a result of degeneration of the bones, discs and joints of the neck. Degeneration occurs as a natural process of wear and tear in our body with ageing. We cant stop the process of degeneration but we can reduce the pain of cervical spondylosis. In this blog we will discuss 5 easy tips to help you to do so.
Watch this video to learn more about what is Cervical Spondylosis and the first signs of this arthritis in the neck:
Here are 5 Easy tips to relieve neck pain from Cervical Spondylosis (Neck Arthritis):
Firstly, try and avoid static positions of the neck such as looking at a computer screen for long periods of time.
Movement
will help to avoid stresses from building up on the structures of the cervical spine such as the disc, ligaments, muscles etc in the neck. You can find some simple
desk based exercises
that can be done under 2 to 3 minutes
HERE
.

The same movements can also be used as neck stretches when they are held for 3 to 5 seconds in the end position. Example: Tilt your neck to bring it close to the shoulder and hold it there for 5 seconds if pain free.
Secondly, you can wear

a
soft cervical collar
to help support the head and cervical spine. It is often used after a person has suffered a neck injury to keep the spine in alignment and reduce pain.

It can also be used as a precaution when you know that

your neck can get some jerks such as uneven roads or i

f you are

going on a long flight where you may want to stabilize your neck with a cervical collar.
Thirdly try to keep the cervical spine in a neutral position at all times. You can do so by keeping the top of the computer screen or television 5 to 10 degree below the horizontal gaze (as shown in the picture below).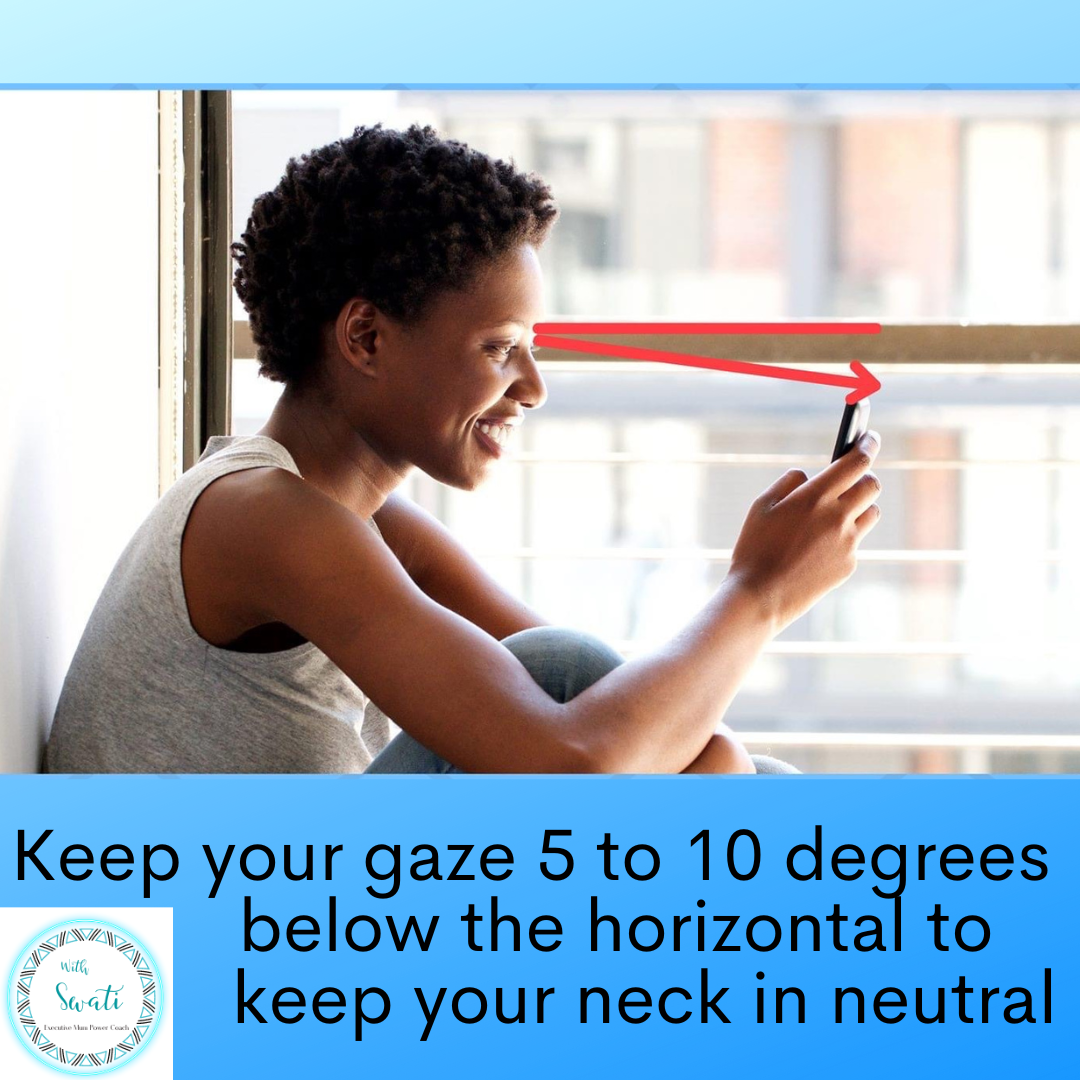 Fourthly, use a
hot pack
if you feel stiffness in the neck or a spasm (tightness) in your neck muscles. Heat helps to relieve the spasm as it increases the blood circulation to the area. A cold pack can be used to ease the soreness or tiredness that is usually felt at the end of a long day as cold helps to ease the inflammation in the area.
Fifthly, try and keep your neck into a good posture especially when you are sleeping. Using a pillow of the right height is the key to achieving a good sleeping posture. You can learn more about it
HERE.
If you want to learn more easy ways to manage your neck pain, join my free community where we have done free training on "Simple Solutions to Manage Your Neck Pain"
If you like this blog and want to be notified about new blogs as soon as they are published, subscribe to my mailing list below.